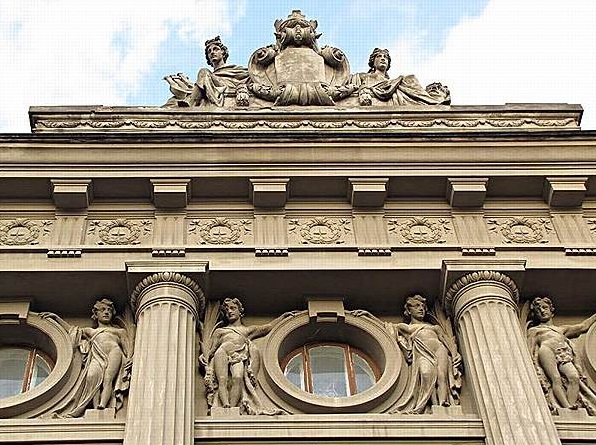 Simferopol, the capital of Crimea.
Simferopol is the capital and the largest city of Crimea. It is the business, administrative and cultural center of the peninsula. It has about 360,000 inhabitants.
Brief history
Simferopol was the capital of the Scythian State, known as Scythian Naples, during the 3rd century BC. During the 1st century the Tartats built their settlements at Ak-Mosque and became the residence of Kalga Sultan, the governor of the Crimean Khanate. The name Simferopol has been used since 1784 when the city was annexed from the Crimean Khanate to the Russian empire led by Catherine II. Simferopol is a Greek word meaning "city gatherer" or "good city". Since October 1921 Simferopol has had the status of Capital of the Autonomous Republic of Crimea, first as part of the Soviet Union, then from 1991 to the first quarter of 2014 as part of Ukraine. After the Annexation of the peninsula by the Russian Republic, Simferopol remained the capital of Crimea.
Administrative, economic and cultural center
The capital is divided into three districts: Railway or Zaliznychnyi in the north and northeast, Tsentralnyi or Central located in the center and west, and Kyivskyi or Kiev in the south and southeast of the capital.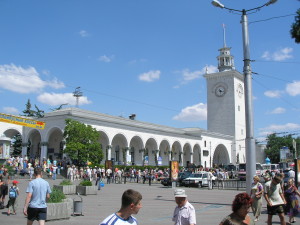 Train station in Simferopol
The parliament of the Autonomous Republic of Crimea and the Council of Ministers, known as the Verkhovna Rada, are located in Simferopol. The city is also the administrative center of the Simferopol Region.
Its major industries are car manufacturing and agriculture. Volga, a major Russian car manufactures has a plant in the capital producing Volga Cars and Gazelle minibuses. Agriculture is a major employer in the region producing wine, juice, canned and fresh fruits, vegetables, grains and other Mediterranean climate produce.
Transportation
Simferopol is known as the "Gate of Crimea" because it is where all the roads, leading to each corner of the peninsula, meet.
The Simferopol International Airport is located in the outskirts of the capital. It is the largest in the peninsula and receives flights from all over the world. It was constructed in 1936.
The main railway station serves its inhabitants as well as the millions of tourists the city receives every year. During the summer Simferopol's population more than doubles. The bus service connects the capital to every corner of the peninsula. The trolleybus is the longest trolleybus line in Europe. It connects Simferopol with Alushta in one hour and Yalta in two and a half.
Category: Main Cities